Bäckerei SCHMIEDL - Tribushof
About Bäckerei SCHMIEDL - Tribushof
The bakery SCHMIEDL was founded in 1890 from Josef Schmidt, the great grandfather of the today's owner Hans Schmidt. In 1890, Josef, master baker from Egna, took over the shop and mill "Reibmayr" in Lana. Ever since, the village bakery, back then as well as today known as "Schmiedlbeck", is lead without interruption by the family Schmidt. Nowadays, the bakery, conducted in the full respect of tradition, counts seven stores in Merano and environs.

Family recipes, forwarded from generation to generation, enrich the manufacturing of the products fundamentally. Besides the classic products like rolls, "Pair-Bread" (Paarl), "Schüttelbrot" and sweet bread, seasonal pastry is made according to local customs. Following the church year typical "Brezen", called "Fastenbrezen" are produced during Lent, Easter bread and the traditional "Fochaz" during Easter, "Zelten", "Stollen" and homemade biscuits during Christmas time. Further, the range of bread gets continuously developed according to healthy and sustainable criteria by processing local and biological grain.



Delivery information
Bäckerei SCHMIEDL - Tribushof delivers to your home.

Opening hours
Mon.

06:30 - 12:15 / 15:00 - 18:45

Tue.

06:30 - 12:15 / 15:00 - 18:45

Wed.

06:30 - 12:15 / 15:00 - 18:45

Thu.

06:30 - 12:15 / 15:00 - 18:45

Fri.

06:30 - 12:15 / 15:00 - 18:45

Sat.

06:30 - 12:15

Sun.

Closed
currently open - until 12:15
Contact data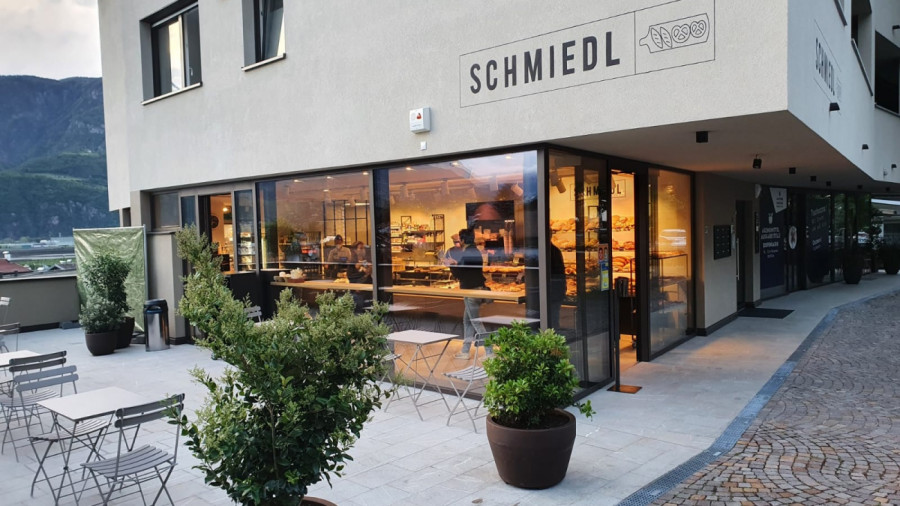 Bakery SCHMIEDL - Tscherms
in Tscherms / Cermes
Love and awareness for tradition - a very special bakery in the centre of Tscherms.