Kunsthandlung KOMPATSCHER
About Kunsthandlung KOMPATSCHER
There can be no art without a frame, says the art historian Louis Marin. There can be no art without a boundary that isolates it and distinguishes it as something different from the world of our everyday life. Whether it encloses a painting or a photograph, it makes no difference – it's owing to frames that these objects become special.
In order to give prominence to your objects of art, we've been creating handcrafted frames in South Tyrol for many years now. But they are not just photographs, watercolor and oil paintings that are embraced by our frames. Also degrees, diplomas and certificates need a frame that would point out their importance and recall to their meaning.
For years, we've been conducting the ancient tradition of the South Tyrolean manufacturers of frames. We choose the finest wood and valuable materials for realization of our frames. Unique pieces conceived to give your objects of art or diplomas a custom-made suit, capable of appraising them and of giving them importance over time.
Those, who choose our handcrafted frames – choose products of highest quality, manufactured with much care and devotion. Frames that conciliate the bound of tradition and the freedom of modern artisan techniques.
Our other gallery "Galerie Hofburg" you can find also in Brixen Hofgasse 5, T. : +39 0472 832 080
Opening hours
Mon.

09:00 - 13:00 / 15:00 - 18:30

Tue.

09:00 - 13:00 / 15:00 - 18:30

Wed.

09:00 - 13:00 / 15:00 - 18:30

Thu.

09:00 - 13:00 / 15:00 - 18:30

Fri.

09:00 - 13:00 / 15:00 - 18:30

Sat.

09:00 - 12:30 / 15:00 - 18:30

Sun.

Closed
currently closed, opens on Wednesday at 09:00
Contact data
More Trade of arts & crafts nearby
Galerie Hofburg
in Brixen / Bressanone
Die Galerie Hofburg im Zentrum der Bischofsstadt Brixen ist eine Welt der schönen und inspirierenden Kunsthandwerksprodukte. ...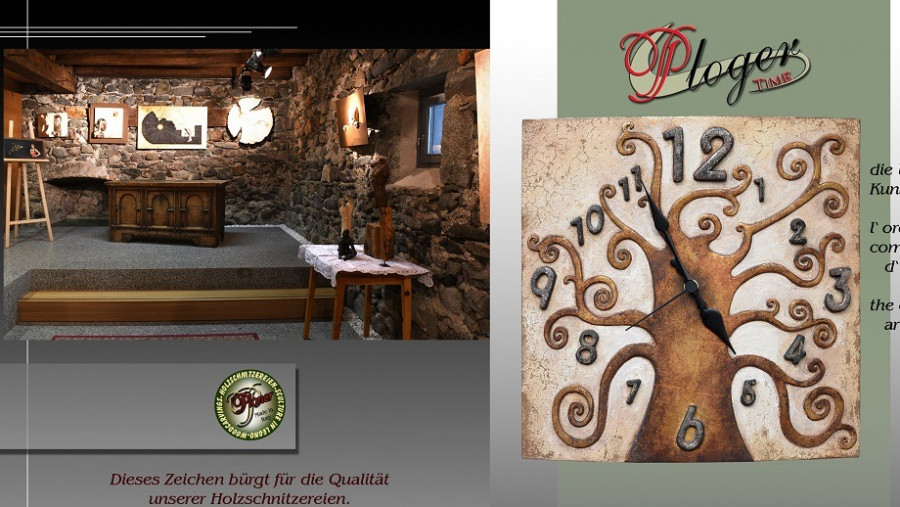 Wood carving Ploner Gerhard
in Gufidaun / Gudon
High quality carving, naturally handmade and with the unmistakable style of the sculptor Gerhard Ploner